Je savais que de nouvelles choses se planifiait actuellement ... mais alors là !! c'est à tomber par terre ! à tomber à genoux ! je suis tellement un énooooooooorme fan du groupe Pink Floyd que là, c'est complétement démentiel, dingue, de la folie, génial, exceptionnel ... je n'ai même plus de qualificatifs en stock ;-)
Déjà que le concert Pink Floyd "Pulse" (voir ici) nous avait emmené au paradis ... alors là ... ce coffret énorme (le mot est très faible) va nous envoyer dans une autre galaxie ... c'est surnaturel ! magique !
Que dire ... imaginez ... six disques ! ... 2CD en version remasterisée 2011 contenant l'album et le live ... 2DVD contenant de nombreux mix et images inédits ... 1BLU-RAY offrant tout le contenu des 2dvd et surtout l'album "Dark side of the moon" en piste audio HD !!! ... on croit avoir atteint le summum, eh bien non, un 3ème CD blindé de bonus inédits débarque ...
Submergé par tant de richesse artistique ... les goodies du coffret sont eux aussi très nombreux ... un livret de 40 pages, un livre de photos, un "art print" de 27 cm, une écharpe, une réplique d'un ticket de concert de 1973, une replique d'un pass backstage de 1973, et plein d'autres encore ... MONUMENTAL !!!
C'est prévu le 27 septembre aux US, le 26 septembre 2011 en Angleterre et en France !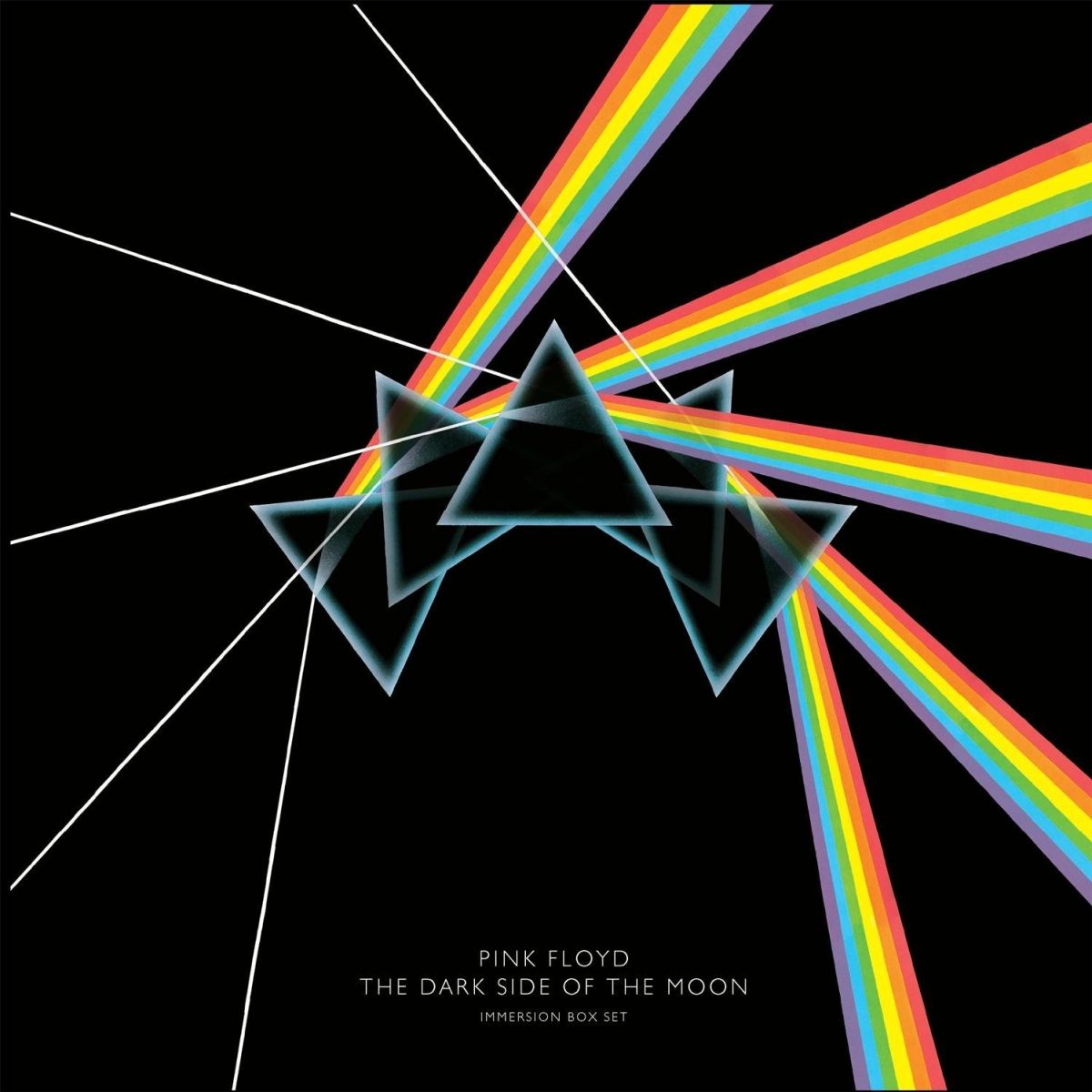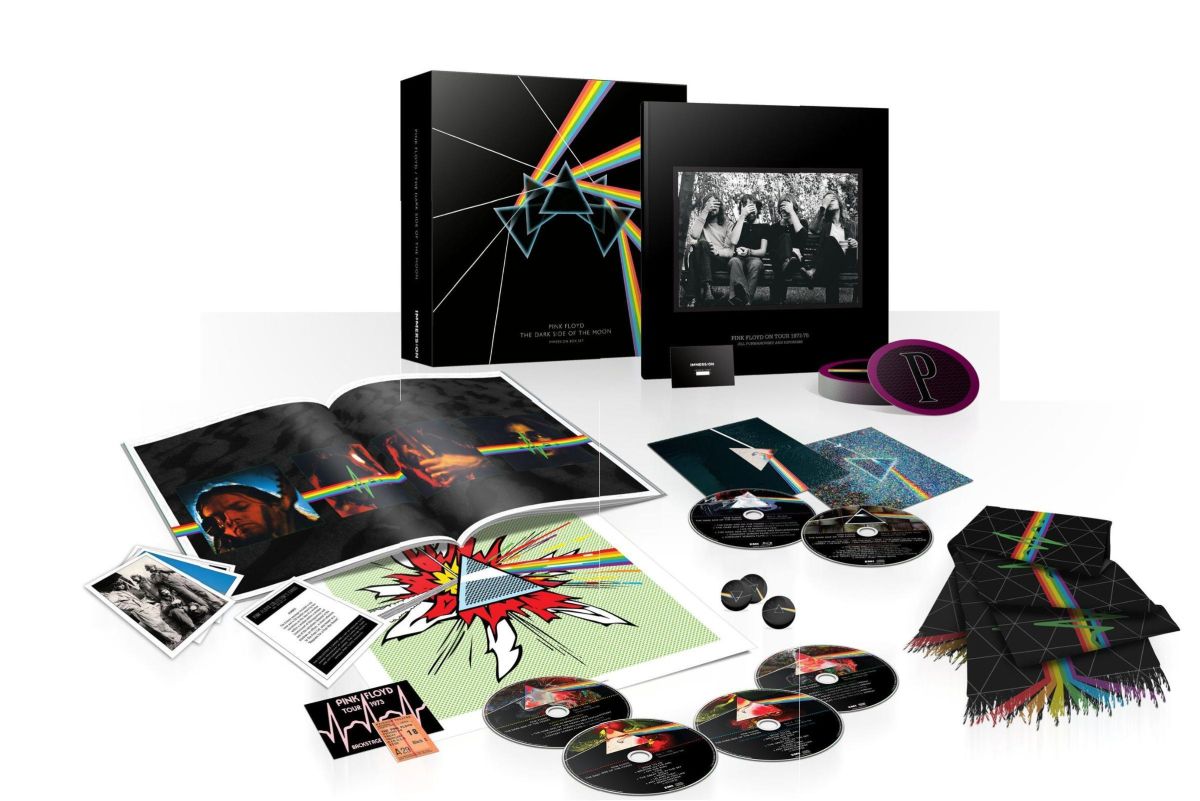 DISQUE 1 – CD1 :
The Dark Side Of The Moon remasterisé par James Guthrie, 2011
DISQUE 2 – CD2 :
The Dark Side Of The Moon live à Wembley en 1974 (Mix 2011 inédit)
DISQUE 3 – DVD 1, 100% AUDIO :
- The Dark Side Of The Moon, James Guthrie 2003 Mix 5.1 Surround (uniquement disponible sur la version SACD de 2003) résolution audio standard 448 kbps
- The Dark Side Of The Moon, James Guthrie 2003 Mix 5.1 Surround (uniquement disponible sur la version SACD de 2003) haute résolution audio 640 kbps
- The Dark Side Of The Moon, LPCM Stereo mix (idem disque 1)
- The Dark Side Of The Moon, Alan Parsons Quad Mix (uniquement disponible sur le vinyle LP/8 titres de 1973) résolution audio standard 448 kbps
- The Dark Side Of The Moon, Alan Parsons Quad Mix (uniquement disponible sur le vinyle LP/8 titres de 1973) haute résolution audio 640 kbps
DISQUE 4 – DVD 2, 100% AUDIOVISUEL:
- Live à Brighton 1972:
Careful With That Axe, Eugene (inédit en DVD)
Set The Controls For The Heart Of The Sun (inédit en DVD)
- The Dark Side Of The Moon, documentaire 2003 (25 min EPK)
- Films projetés pendant les concerts (total 60 min) :
British Tour 1974
French Tour 1974
North American Tour 1975
Films projetés pendant les concerts (son stéréo et 5.1 Surround)
DISQUE 5 – BLURAY, AUDIO & AUDIOVISUEL :
- AUDIO: The Dark Side Of The Moon, James Guthrie 2003 Mix 5.1 Surround (uniquement disponible sur la version SACD de 2003) haute résolution audio 96 kHz/24-bit
- AUDIO: The Dark Side Of The Moon, Original stereo mix (1973) masterisé en haute résolution audio 96 kHz/24-bit
- AUDIOVISUEL: Live à Brighton 1972:
Careful With That Axe, Eugene (inédit en DVD/BluRay)
Set The Controls For The Heart Of The Sun (inédit en DVD/BluRay)
- AUDIOVISUEL: The Dark Side Of The Moon, documentaire 2003 (EPK)
- AUDIOVISUEL: Films projetés pendant les concerts (Mix 5.1 Surround):
British Tour 1974
French Tour 1974
North American Tour 1975
- AUDIOVISUEL: Films projetés pendant les concerts (Mix haute résolution stéréo)
British Tour 1974
French Tour 1974
North American Tour 1975
DISQUE 6 – CD3 :
-The Dark Side Of The Moon 1972 Early Album Mix par Alan Parsons (inédit)
- The Hard Way (extrait du projet Household Objects)
- Us And Them, Richard Wright démo (inédit)
- The Travel Sequence, live à Brighton Juin 1972 (inédit)
- The Mortality Sequence, live à Brighton Juin 1972 (inédit)
- Any Colour You Like, live à Brighton Juin 1972 (inédit)
- The Travel Sequence, enregistrement studio 1972 (inédit)
- Money, Roger Waters démo (inédit)
GOODIES
Livret 40 pages 27cm x 27cm créé par Storm Thorgerson
Livre photo exclusif créé par Jill Furmanovsky
27cm x 27cm impression d'art par Storm Thorgerson
5 x cartes collector avec des commentaires de Storm Thorgerson
Reproduction d'un ticket de concert de The Dark Side Of The Moon
Reproduction d'un pass backstage de The Dark Side Of The Moon
Echarpe
3 x billes noires
9 x dessous de verre dessinés par Storm Thorgerson à partir de croquis originaux de l'époque
Livret 12 pages avec les crédits
Tracklists :
DISQUE 1
Speak To Me
Breathe
On The Run
Time
The Great Gig In The Sky
Money
Us And Them
Any Colour You Like
Brain Damage
Eclipse
DISQUE 2
Speak To Me
Breathe
On The Run
Time
The Great Gig In The Sky
Money
Us And Them
Any Colour You Like
Brain Damage
Eclipse
DISQUE 3
Speak To Me
Breathe
On The Run
Time
The Great Gig In The Sky
Money
Us And Them
Any Colour You Like
Brain Damage
Eclipse
Speak To Me
Breathe
On The Run
Time
The Great Gig In The Sky
Money
Us And Them
Any Colour You Like
Brain Damage
Eclipse
Speak To Me
Breathe
On The Run
Time
The Great Gig In The Sky
Money
Us And Them
Any Colour You Like
Brain Damage
Eclipse
Speak To Me
Breathe
On The Run
Time
The Great Gig In The Sky
Money
Us And Them
Any Colour You Like
Brain Damage
Eclipse
Speak To Me
Breathe
On The Run
Time
The Great Gig In The Sky
Money
Us And Them
Any Colour You Like
Brain Damage
Eclipse
DISQUE 4
Careful With That Axe, Eugene Live à Brighton 1972 (inédit en DVD)
Set The Controls For The Heart Of The Sun Live à Brighton 1972 (inédit en DVD)
The Dark Side Of The Moon, documentaire 2003 (25 min EPK)
Films projetés pendant les concerts (60 min total):
British Tour / Films projetés pendant les concerts 1974
French Tour / Films projetés pendant les concerts 1974
North American Tour / Films projetés pendant les concerts 1975
DISQUE 5
Speak To Me
Breathe
On The Run
Time
The Great Gig In The Sky
Money
Us And Them
Any Colour You Like
Brain Damage
Eclipse
Speak To Me
Breathe
On The Run
Time
The Great Gig In The Sky
Money
Us And Them
Any Colour You Like
Brain Damage
Eclipse
Careful With That Axe, Eugene Live à Brighton 1972 (inédit en DVD)
Set The Controls For The Heart Of The Sun Live à Brighton 1972 (inédit en DVD)
The Dark Side Of The Moon, documentaire 2003 (25 min EPK)
British Tour / Films projetés pendant les concerts 1974 (Mix 5.1 Surround)
French Tour / Films projetés pendant les concerts 1974 (Mix 5.1 Surround)
North American Tour / Films projetés pendant les concerts 1975 (Mix 5.1 Surround)
British Tour / Films projetés pendant les concerts 1974 (Mix haute résolution stéréo)
French Tour / Films projetés pendant les concerts 1974 (Mix haute résolution stéréo)
North American Tour / Films projetés pendant les concerts 1975 (Mix haute résolution stéréo)
DISQUE 6
Breathe
On The Run
Time
The Great Gig In The Sky
Money
Us And Them
Any Colour You Like
Brain Damage
Eclipse
The Hard Way (extrait du projet Household Objects)
Us And Them, Richard Wright démo (inédit)
The Travel Sequence, live à Brighton Juin 1972 (inédit)
The Mortality Sequence, live à Brighton Juin 1972 (inédit)
Any Colour You Like, live à Brighton Juin 1972 (inédit)
The Travel Sequence, enregistrement studio 1972 (inédit)
Money, Roger Waters démo (inédit)