De la même manière que "Dark side of the moon" (voir article précédent ici), l'album de Pink Floyd "Wish you were here" lui aussi droit à un exceptionnel coffret "Immersion"
Que dire ... imaginez ... cinq disques ! ... 2CD en version remasterisée 2011 contenant l'album, le live et des bonus ... 2DVD contenant de nombreux mix et images inédits ... 1BLU-RAY offrant tout le contenu des 2dvd et surtout l'album "Wish you were here" en piste audio HD !!!
Submergé par tant de richesse artistique ... les goodies du coffret sont eux aussi très nombreux ... un livret de 40 pages, un livre de photos, un "art print" de 27 cm, une écharpe, une réplique d'un ticket de concert de 1975, une replique d'un pass backstage de 1975, et plein d'autres encore ... MONUMENTAL !!!
C'est prévu le 8 novembre aux US, le 7 novembre 2011 en Angleterre et en France !
Et j'avoue que le "ceci n'est pas une boite" écrit en français est une enigme ... les fans se la pose dans le monde entier ...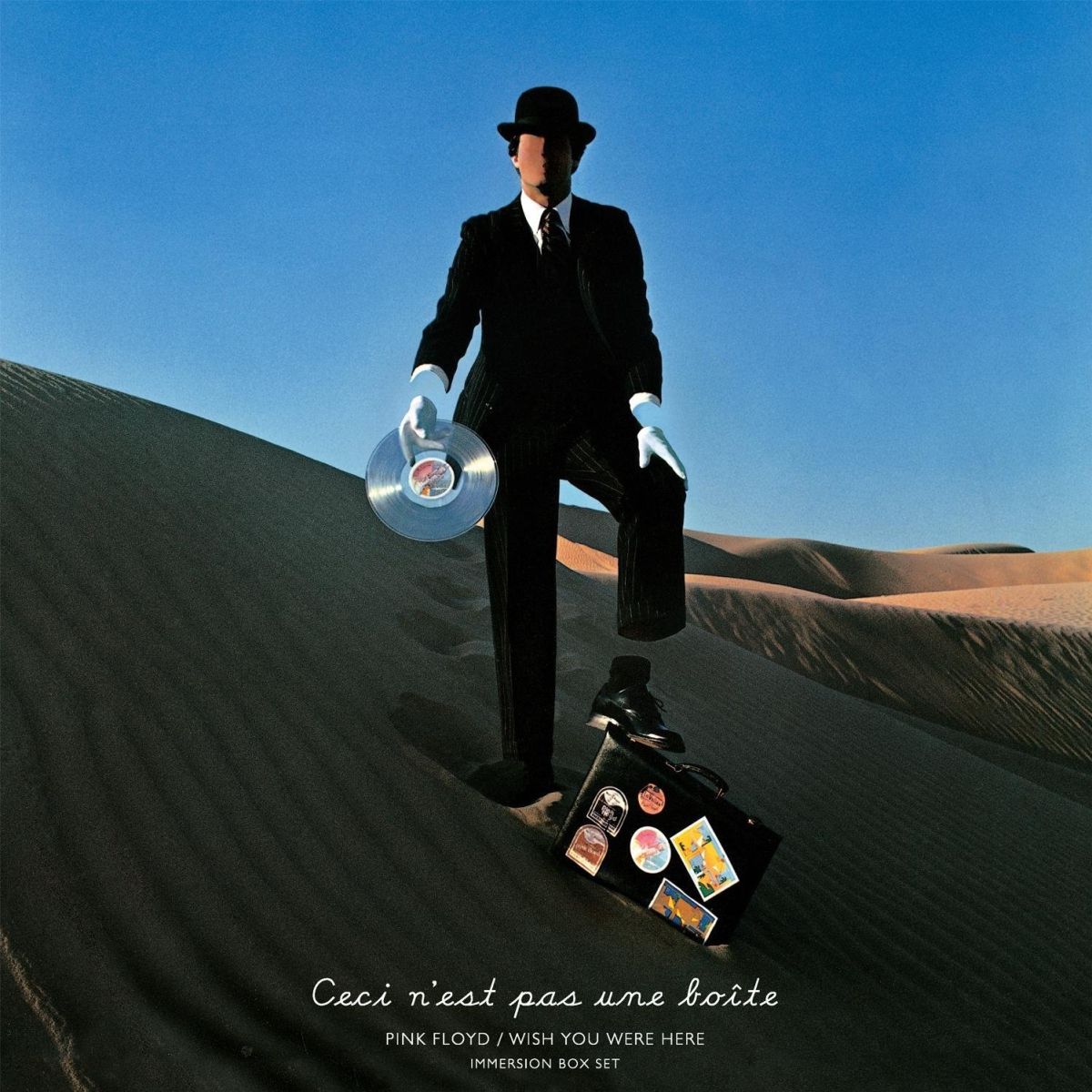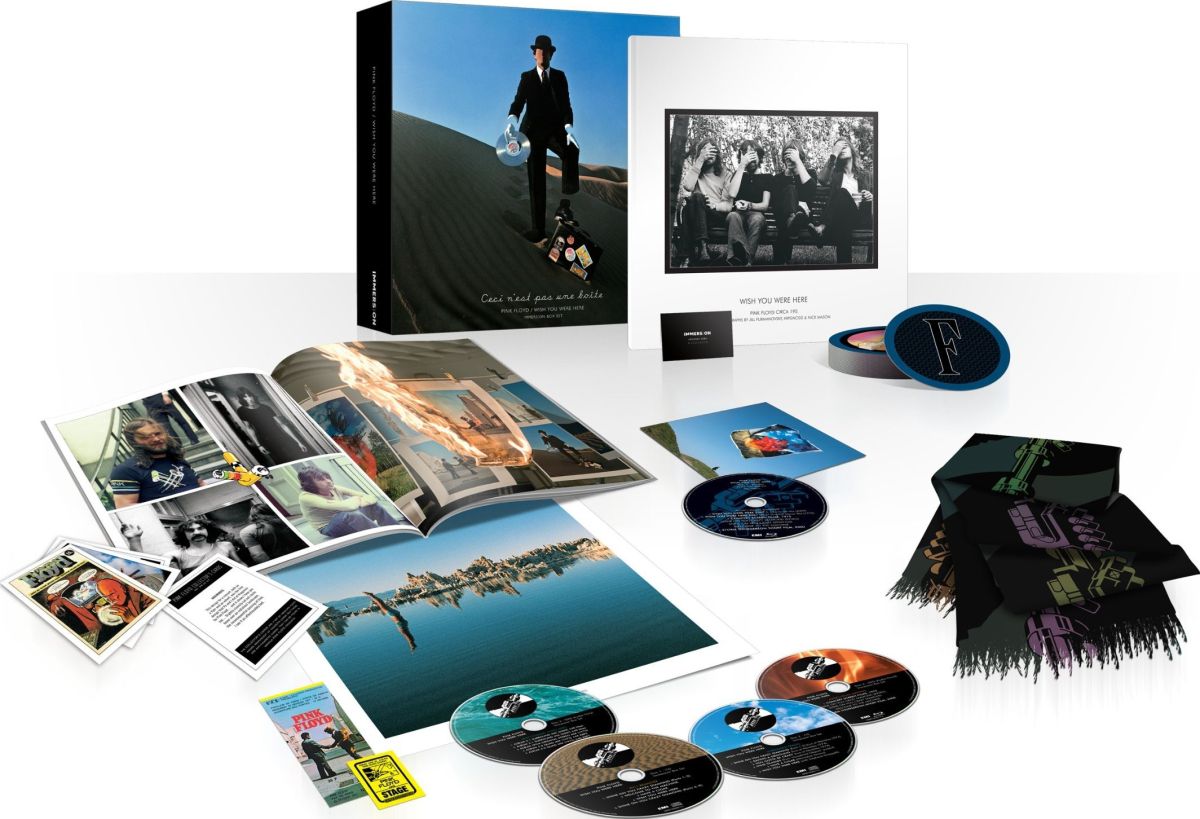 DISQUE 1 - CD1:
Wish You Were Here remasterisé par James Guthrie, 2011
DISQUE 2 - CD2 :
Shine On You Crazy Diamond (parts 1-6) live à Wembley en novembre 1974 (mix 2011 inédit)
Raving & Drooling live à Wembley en novembre 1974 (mix 2011 inédit)
You've Got To Be Crazy live à Wembley en novembre 1974 (mix 2011 inédit)
Wine Glasses extrait du projet inédit 'Household Objects'
Have A Cigar version alternative (inédit)
Wish You Were Here featuring Stephane Grappelli (inédit)
DISQUE 3 - DVD1, 100% AUDIO :
- Wish You Were Here, James Guthrie 2009 Mix 5.1 Surround (inédit) résolution audio standard 448 kbps
- Wish You Were Here, James Guthrie 2009 Mix 5.1 Surround (inédit) haute résolution audio 640 kbps
- Wish You Were Here, Original Mix (1975) LPCM stereo
- Wish You Were Here, Quad Mix (uniquement disponible sur le vinyle LP/8 titres) résolution audio standard 448 kbps
- Wish You Were Here, Quad Mix (uniquement disponible sur le vinyle LP/8 titres) haute résolution audio 640 kbps
DISQUE 4 - DVD2, AUDIVISUEL :
- AUDIOVISUEL: Films projetés pendant les concerts :
Shine On You Crazy Diamond Intro
Shine On You Crazy Diamond
- AUDIOVISUEL: Welcome To The Machine clip animé
- AUDIOVISUEL: Storm Thorgerson court métrage
Films projetés pendant les concerts en stéréo et son 5.1 Surround
DISQUE 5 - BLURAY :
- AUDIO: Wish You Were Here, James Guthrie 2009 Mix 5.1 Surround (inédit) haute résolution audio 96 kHz/24-bit
- AUDIO: Wish You Were Here, Original stereo mix (1975) masterisé en haute résolution audio 96 kHz/24-bit
- AUDIOVISUEL: Films projetés pendant les concerts :
Shine On You Crazy Diamond Intro
Shine On You Crazy Diamond
- AUDIOVISUEL: Welcome To The Machine clip animé
- AUDIOVISUEL: Storm Thorgerson court métrage
GOODIES
Livret 40 pages 27cm x 27cm créé par Storm Thorgerson
Livre photo exclusif créé par Jill Furmanovsky
27cm x 27cm impression d'art par Storm Thorgerson
5 x cartes collectors commentées par Storm Thorgerson
Reproduction d'un ticket de concert de Wish You Were Here
Reproduction d'un pass backstage de Wish You Were Here
Echarpe
3 x billes transparentes
9 x dessous de verre dessinés par Storm Thorgerson à partir de croquis originaux de l'époque
Livret 12 pages avec les crédits
Tracklists :
DISQUE 1
Shine On You Crazy Diamond (Part One) (1-5)
Welcome To The Machine
Have A Cigar
Wish You Were Here
Shine On You Crazy Diamond (Part Two) (6-9)
DISQUE 2
Shine On You Crazy Diamond (parts 1-6) live à Wembley en novembre1974 (mix 2011 inédit)
Raving & Drooling live à Wembley en novembre1974 (mix 2011 inédit)
You've Got To Be Crazy live à Wembley en novembre 1974 (mix 2011 inédit)
Wine Glasses extrait du projet inédit 'Household Objects'
Have A Cigar version alternative (inédit)
Wish You Were Here featuring Stephane Grappelli (inédit)
DISQUE 3
Shine On You Crazy Diamond (Part One) (1-5)
Welcome To The Machine
Have A Cigar
Wish You Were Here
Shine On You Crazy Diamond (Part Two) (6-9)
Shine On You Crazy Diamond (Part One) (1-5)
Welcome To The Machine
Have A Cigar
Wish You Were Here
Shine On You Crazy Diamond (Part Two) (6-9)
Shine On You Crazy Diamond (Part One) (1-5)
Welcome To The Machine
Have A Cigar
Wish You Were Here
Shine On You Crazy Diamond (Part Two) (6-9)
Shine On You Crazy Diamond (Part One) (1-5)
Welcome To The Machine
Have A Cigar
Wish You Were Here
Shine On You Crazy Diamond (Part Two) (6-9)
Shine On You Crazy Diamond (Part One) (1-5)
Welcome To The Machine
Have A Cigar
Wish You Were Here
Shine On You Crazy Diamond (Part Two) (6-9)
DISQUE 4
Shine On You Crazy Diamond Intro / Film projeté pendant les concerts en stéréo et son 5.1 Surround
Shine On You Crazy Diamond / Film projeté pendant les concerts en stéréo et son 5.1 Surround
Welcome To The Machine clip animé
Storm Thorgerson court métrage
DISQUE 5
Shine On You Crazy Diamond (Part One) (1-5)
Welcome To The Machine
Have A Cigar
Wish You Were Here
Shine On You Crazy Diamond (Part Two) (6-9)
Shine On You Crazy Diamond (Part One) (1-5)
Welcome To The Machine
Have A Cigar
Wish You Were Here
Shine On You Crazy Diamond (Part Two) (6-9)
Shine On You Crazy Diamond Intro / Film projeté pendant les concerts en stéréo et son 5.1 Surround
Shine On You Crazy Diamond / Film projeté pendant les concerts en stéréo et son 5.1 Surround
Welcome To The Machine clip animé
Storm Thorgerson court métrage